A Guide to Louisville
Louisville ranks second just behind Pittsburgh as the top housing market in the United States according to Forbes Magazine online. This is partly because of Louisville home prices, affordability rating and a low number of foreclosures,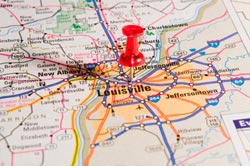 The ranking is computed by taking into account the averages of various affordability rates, median home prices, sales prices in major markets and where home prices are expected to rise. According to the Forbes.com article "Nationally, homes are near the most affordable they've been in 18 years."
Since Louisville homes are looking strong on the housing market front, there should be no fear in those who wish to upgrade their homes or those who are wanting to move into the area.
There are many resources here on this site to help you find your perfect home and to help you find the best agent to work for you. The River Valley Group is always available to help you sell your home or buy your next one! Don't let the housing market scare you- Louisville is still growing!
Call the team at 502-265-5818 for a price appreciation graph for the last 5 years.
---
Everybody Loves Louisville...
2013
"Top Travel Destination for 2013" by Lonely Planet
Ranked 3rd on the "Top 30 City for Young Entrepreneurs" by the readers of Under30CEO
2012
"Most Livable City in America" by the U.S. Conference of Mayors
One of the "Best Places to Retire" by U.S. News & World Report
2011
One of the "Best Places to Live" by Men's Journal
A top 10 ranking for "Best Cities for Families" by Parenting Magazine
2010
A top 10 city for "Economic Growth Potential" by Business Facilities Magazine
Ranked as the "2nd Best Housing Market in the United States" by Forbes Magazine.
2009
One of the "25 Best Places to Retire" by Money Magazine
Included in the "Cities to Watch" by Smarter Cities Environmental Survey
---
Louisville's Top Attactions: